Welcome to Simmons Construction's Interactive Newsroom!
Here, members of our staff, both in corporate and out in the field, post news about the Company, our events and project updates.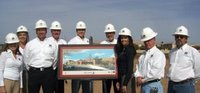 And with this new interactive format you, our guests, can also comment on our postings. We welcome your feedback on what we're doing right, as well as the kind that helps us get better at what we do.
Thanks for stopping by!
-The Simmons Construction Team