Bell Mar Neighborhood Shopping Plaza Breaks Ground!

On February 7th, we hosted a ceremony for the groundbreaking of the Bell Mar Neighborhood Shopping Plaza in honor of owner, Arizona Property Management, LLC, developer, Esterra Development, LLC and leasing brokerage, TAG Commercial. It's a pleasure working with this triple thread team. Heading up the build of this project is Sr. Project Manager, Terry Christensen, along with Steve Buchanan as the Project Superintendent.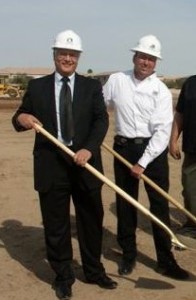 At the official ground breaking, we had a great turnout from representatives of the City of Surprise, with the Economic Development, City Planning, as well as the Mayor's office. This event, without a doubt, fuels the excitement with regard to the development of Surprise. 
A special thanks to Erin Zlomek of the Arizona Republic, who covered this project.
Zlomek's Article:
Work begins on upscale development in Surprise
Erin Zlomek The Arizona Republic, Feb. 9, 2007 12:00 AM - A noticeable complex of upscale shopping boutiques interlaced with white-tablecloth restaurants will go up at Surprise's easternmost entry point by next year. "Three giant ship masts will adorn the complex, which is likely to be the first landmark people see when they enter the city," said Bridget Zeuner representing Simmons Construction Co. who is building the project. Ground was broken Wednesday on the complex, Bell Mar Neighborhood Shopping Plaza, at Bell Road and Avenue of the Arts. The intersection marks the entrance to the city and sees about 60,000 vehicles per day.
The plaza is expected to open in early 2008. "The goal is to bring a higher class of shopping to Surprise, a city that now hosts mostly big box retailers like Wal-Mart, Target and Kohl's," Zeuner said. Marketers are branding the plaza's caliber of stores as 'upscale casual.' "The developers are working to attract Scottsdale-like boutiques, for the residents of Surprise, " Zeuner said. A golfing pro shop, jewelry store, a café and bistro and specialty women's clothing store are planned. A Los Padres Bank also will go in the plaza. The complex will occupy about 72,000 square feet in three buildings. About 15,000 square feet will house restaurants along the line of a Houston's or P.F. Chang's, said Gary Arnold, a developer representing TAG Commercial. Professional offices will encompass about 20,000 square feet of the project. The rest of the space will be retail.
The project is in close proximity to the West Valley Art Museum and across the street from a mixed-use condo development. West Valley Art Museum director Connie Stover said the plaza is not likely to affect her museum in any way. Although she is not opposed to the plaza, she said she would rather have seen another cultural center go in that space.